Get TEFL Certified & Start Your Adventure Today!
Honest Expat owned recruitment agency seeks GREAT teachers for AWESOME Schools. We have ASAP positions as well as APR/MAY/JUN/JUL Private & public schools!
Posted By: www.teachenglishinkorea.org <teik.jobs@gmail.com>
Date: Monday, 27 March 2017, at 8:00 a.m.
FOR MORE INFORMATION & TO APPLY ON-LINE

 

Please go to our website at www.teachenglishinkorea.org (job application) and (1) SUBMIT AN APPLICATION, & (2) EMAIL your A) RESUME [word document] & B) CURRENT PHOTO (smiling passport style photo) to teik.jobs[@]gmail.com or teik.jobs[@]gmail.com .

Just to reiterate:

Our goal is to send quality teachers to quality schools, period

.

If you want to work with an American recruiter who has lived, taught and placed teachers in Korea for over ten years, and who will continue working for you after you arrive in Korea, then

www.teachenglishinkorea.org

 

 

would love the opportunity to work with you. Unlike other recruiters, we at T.E.I.K. pride ourselves on helping build our teachers social network by introducing new teachers to our current teachers that are living in Korea to help build a sense of community and to help our teachers smoothly transition in to a new country, culture and adventure. Most recruiters are Korean, Korean schools or Korean owned agencies and they care mostly about the school, T.E.I.K. on the other hand is teacher centric, where your needs come first. Other recruitment agencies believe that their job is finished the minute you arrive in Korea, but we at T.E.I.K. believe that our job is only half finished and we keep in contact throughout your entire placement. Check out our testimonials pages and feel confident that you will be working with a company who you can understand and more importantly, who can understand you. Please be sure to email me your resume, current photo and fill out the 2 minute on-line job application on our website.

If you are not 100% certain that you feel that you would be a great candidate to teach English in Korea, then don't waste both of our time because I only want to work with caring and honest individuals who have an adventurous spirit, love to travel, meet new people and who love teaching children. I hope that you choose to go to Korea through us and have an amazing experience like I did, you won't regret it if you decide to go. I paid off $25,000 in student loans in my first 15 months in Korea and the average teacher saves $12,000-$20,000 per year. I was also able to meet new lifelong international friends, learn about an ancient culture, travel to several exotic neighboring countries and have fun doing it!

 

Best Regards,

Brad Brennan

Program Director

teik.jobs[@]gmail.com or teik.jobs[@]gmail.com  

 

www.teachenglishinkorea.org  is the best run recruitment agency placing high quality teachers at high quality schools. We only work with schools that have an excellent track record for paying their teachers on time, are drama free and honor teacher's contracts. We are a Chicago/Seoul boutique recruitment agency owned and run by expats that focus on 'QUALITY' rather than 'QUANTITY.' If you are a diligent college graduate who loves children, is seeking an adventure abroad, want to save a lot of money and are flexible, then be sure to email us your resume, current smiling passport style photo and fill out the 2 minute job application on our website below.

Learn more at: www.teachenglishinkorea.org

To apply:  http://teachenglishinkorea.org/index.php?option=com_facileforms&Itemid=46 Jobs board: http://teachenglishinkorea.org/index.php?option=com_content&task=section&id=3&Itemid=32
Find us on Facebook: https://www.facebook.com/Teachenglishinkorea
Join our PT/FT Gyeonggido Jobs Board on Facebook: www.teachenglishinkorea.org Brennan Global Corp.

HOT JOBS!!!

Featured Jobs!

Private KINDY/ELEM-ASAP/JUN/JUL 2017 Start date in Seoul (Dongdaemun branch) Full benefits
To see our 80+ testimonials please go here:
Greetings Brad from sunny Seoul!!Things are going great at my hagwon in Suyu, northern Seoul. The transition has been rather mild and I suppose I'm still waiting for culture shock to sink in...Another teacher at my school has been here several months and never experienced a hard culture shock. I feel I am in the same boat.Classes keep me busy each evening and I find the workload challenging but not too stressful. Teaching requires a great deal of patience and an awful lot of spontaneity. My students keep me on my toes and I enjoy their youthfulness, innocence, and dedication. In Korea I feel very peaceful and relaxed even in the Mecca of its biggest city. There is plenty to see and many new experiences to appreciate and ponder. I would like to thank you for your hours of research and dedication to this exciting adventure. I feel I owe you a great deal for your participation. Thank you for your enthusiasm and ability to 'sniff out' solid hagwons and cheers for processing my visa so quickly for me. May you be blessed with many other happy teachers!!Sincerely, Heidi KaiserSuyu, Northern Seoul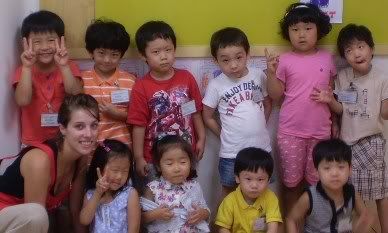 Hey Brad, Thank you for placing Matt and I at such an amazing school. We are extremely happy here. They provide full curriculum and all we have to do is decide how we would like to teach it. Also, our school is very flexible and allows us to alter their curriculum at anytime, if we wish to do so. The class sizes are the best part - I have 7 students in the morning and 6 in the afternoon. It makes teaching and building a relationship with the students very easy. We are very pleased with our living arrangements. We have a two bedroom with a full kitchen, living room, bathroom, and laundry room. It is so nice to have a place to go to every night that really feels like home. Our school purchased everything in our apartment right from our washing machine, to kitchen utensils and an air conditioner. We couldn't ask for anything more. We have met a lot of cool friends and are taking in the culture to the fullest extent. We make taboo actions and comments daily but it's all a part of the experience. It was so nice to have dinner and drinks with you last month. If you come to Korea again in October be sure to let us know so we can do it all over again. Also, have we told you how nice it is to still have you as a support system? We were discussing how we can contact you about anything and how you reply immediately. We have friends who haven't spoke to their recruiter since they boarded the plane, not cool.Talk to you soon, Brittany Bialis :), Seoul, Korea, Gyeonggido
Hey Brad, I know it's been awhile since I've contacted you. I can't believe seven months have passed so quickly. It's been a wild ride. There have been several ups and a few downs, but all have been great learning lessons. My daughter Madison has enjoyed the experience as well. The language has been more difficult to learn than expected, but part of the problem has been that we have kept so busy with home-schooling, traveling to Thailand and China, and all over Korea, volunteering at an orphanage, and working on TEFL certification. Loved the work you did for me and my daughter in obtaining my first contract and in helping to sort out a few problems with my school and apartment. The kids are really amazing and I love working with them. I've enjoyed the area I've been living in, but would like to try another area and I look forward to working with you again to find my next position. Thanks much, Samantha Jenkins, Bucheon City, Gyeonggido
TO MANY JOBS TO LIST-visit www.teachenglishinkorea.org
Hi Brad! How are you? I hope all is well. My first month in Cheongju was great. I really enjoy my job and my co-workers and friends have treated me extremely well. Working with the children has been both pleasant and personally rewarding, and I feel very fortunate to have been placed in one of the best family-operated franchise locations in the area. My apartment is superb and the relationship with my new Korean family is wonderful (They have already taken me on several amazing trips. I am excited at the many unique opportunities I will have in the coming months to explore the country, as it is beautiful and rich with culture and history). Certainly, my time here thus far has been special, and in large part due to your help. I was impressed by the extraordinary effort you displayed to secure for me a position under the most desirable and convenient of circumstances, and I am truly thankful for your steadfast assistance throughout the entire visa process. Your professionalism reflects well upon your program, and I would recommend your excellent service to anyone. Thanks for helping to make this possible! Take care, Kyle Flemming Cheongju
Yeah man! I tried to email you from a pc bong, and it just did not go through. This damn APT and this public school are the best things I have seen in Korea! Thank you very much; it was well worth the wait! Excellent co-teacher, and my APT is like a mansion compared to what I lived in last year. I still do not have a TV, or phone yet though, but will have them soon. Just had my physical today and it was all good. Things here are very different than I was used to from the year before and I can tell you, they are WAY BETTER!Thanks again!Danny Haught, Incheon
Onyeo Brad!How are you doing over there in chilly chicago? Its getting chilly here in Wondang! Brrrr. Thank GOD for heated floors! :) Due to our mold problem at our apartment we stayed at our director's home last night. Funny story about our after dinner snack: Ricky stopped and picked up some pig legs (jokbal) and fried octopus balls to eat on arriving home with his wife and kids! hehe...such a treat. Actually the fried doughy balls of octopus were amazingly good....can't say the same about the pig's fatty legs! hehe. They were an interesting taste! Anyways, I just wanted to email you with photos from a few of the latest events at school and to let you know everything is going well: Halloween and November Birthdays. I should send you some pics from our Thanksgiving party as the kids with Indian feathers and face paint is pretty funny.Thanks Brad! Tata for now. Enjoy the pics & Keep warm! Elizabeth Greener Ilsan, Korea
A few months ago my wife and I were in search of jobs. Our search brought us thankfully to an online post saying "Teach English in Korea." These words sparked our interest and we both applied. In a matter of 24 hours we both received emails from Brad Brennan who so warmly invited us to interview with him at a Chicago Starbucks. From the beginning, Brad was a wonderful person to work with. Our first meeting was filled with conversation about Brad's exciting and wonderful 7 years in South Korea, as well as many questions and answers. His excitement was so contagious. Nolan and I left our rendezvous enthused and ready to apply. Once we accepted, Brad helped us with the visa process and to get everything filled out and thoroughly organized. He gave us websites, reminders, and even sent out documents to the right people in far off Asia. Now Elizabeth and I are teaching little kindergarteners and Elementary students English at Michigan Campus in Seoul, S. Korea. We have a cute 2 bedroom apartment only a 10 minute walk away from our school and are enjoying our time here. If you have any questions or want some more info, feel free to email us : Elizabeth & Nolan Hunt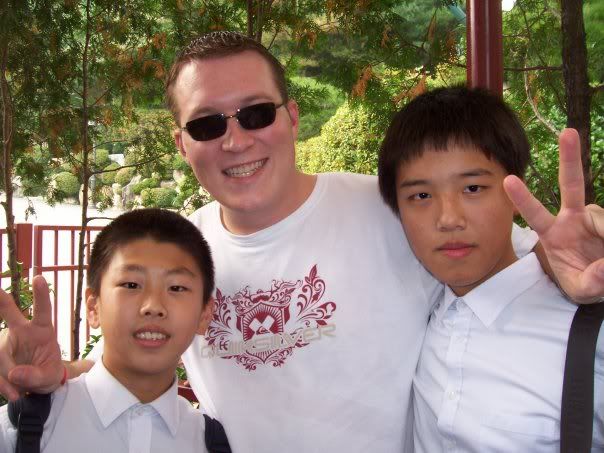 Hey Brad, Sorry to take so long writing. Everything has been great here. All of the staff and faculty at my school here in Ansan have done an incredible job of making feel welcome and like a part of their family. I couldn't have asked for a better school. The students here are also great. They make me feel like I am a local celebrity. I am absolutely loving my time here. After only two months, I am quite sure I will sign on again for a second year with this school. To anyone else who is reading this and trying to decide who to use as a recruiter, I highly recommend using Brad's service. I've talked to many other foreign language teachers since I have been here, and almost all of them are envious of my placement with this school. Thanks again Brad for doing such a great job.Sincerely, Andrew Brasswell Ulsan, S. Korea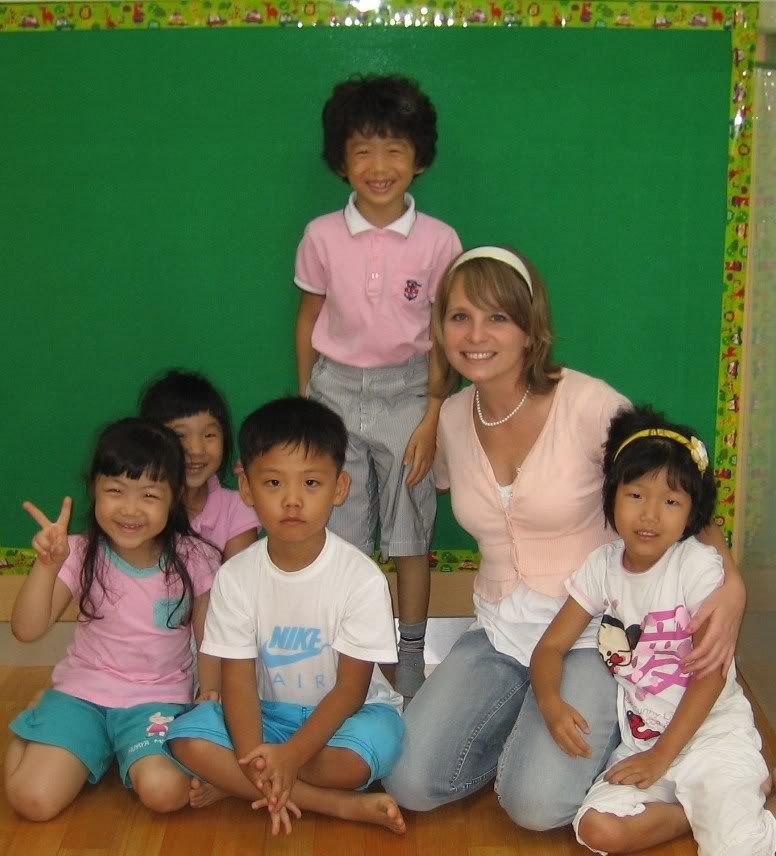 Hey Brad?I really appreciate you staying in contact with Alysia and I after we arrived here in Korea. Everything here is going well and we're having a wonderful time. The school is great, my director is amazing, and the location is good. We're just outside of Seoul and everything is a short subway ribe or bus ride away. Attached are some pictures for you to use on your testimonials page on your website. Thanks again for your help and please keep in touch.Becca Geyerman Seoul, Gyeonggido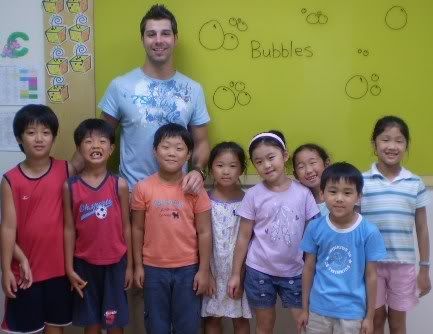 Hey Brad! All is fantastic in Seoul. I am situated at an iSponge Kindergarten school on the East side of Seoul just below the Han river. Teaching young children is a delight and quite rewarding. While there can be challenges at times, it is generally a wonderfully fun experience and all part of the adventure. I teach three classes over the course of a typical work day. The environment and organization of my school is great! The school design resembles something out of Disney World or Alice in Wonderland and it is the perfect environment for small children. Additionally, my school is newly constructed so everything is neat and clean. Resources and materials are also fantastic which makes teaching that much easier to conduct. The curriculum from iSponge is awesome and lessons are detailed and well laid out. Generally work days are fluid and relatively low stress. I am so happy where I teach! Seoul itself is an amazing place to be. The city seems to have a pulse all its own with an energy and life that is easy to identify with. People are friendly and there is never a shortage of things to see and do. Admittedly the food was hard for me to get used to initially, I have now found my footing and have several local restaurants I'm accustomed to visiting often. One of my greatest surprises was how clean the city actually is and especially the subway. The subway is simply an engineering marvel and is one of my favorite aspects of Seoul. The city is great and there is always something going on. New York may be the city that never sleeps but Seoul is the city that never stops. I would like to thank you for your dedicated services to get me to this country. I was thoroughly impressed with your hard work, dedication and approachability. I've heard many troubling statements about the process to get here and it was comforting to know I was in good hands with your services. I would recommend you to anyone interested in teaching in Korea. Thanks again for all your hard work!Matt Sarvos, Seoul, Gyeonggido
Honest AMERICAN owned & run recruitment agency-Needs Top teachers for great positions-Serious teachers only asked to apply
Dave's ESL Cafe Korean Job Board is maintained by Dave Sperling with WebBBS 4.33.
TCheck out the Book - The Korea Asylum!!