The staff of Angelina's attended the TESOL Expo in Philadelphia,USA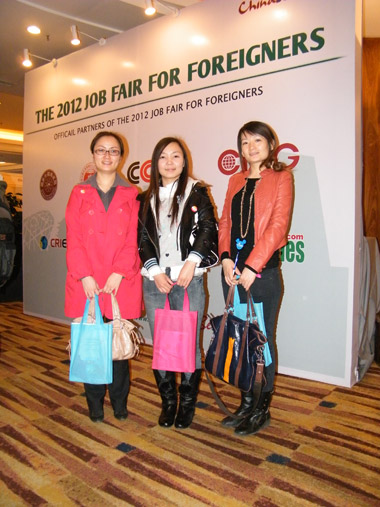 2012 Job Fair for Foreigners, Beijing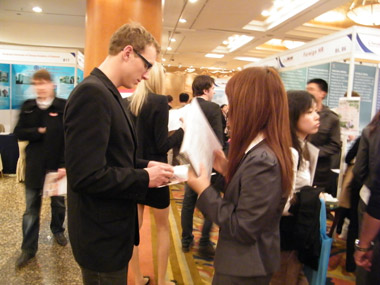 2012 Job Fair for Foreigners, Beijing
Applicants who obtain a teaching position in China through our organization can benefit from the following:
A friendly, personal and 100% FREE service; quick responses and helpful suggestions.
A tracking report on your application.
5,000 - 36,000 RMB per month, depending on qualifications and teaching experience.
Benefits offered by a majority of our schools (see school ID accessed through jobs list TARGET=_BLANK>http://www.anesl.com/schools/search.asp for specific information about each position) include:
12 - 22 academic working hours per week.
A free, well-equipped apartment.
A round-way air ticket for a one academic year contract.
Paid holiday and other allowances.
A foreign expert certificate.
Our employers are licensed and qualified to employ foreign experts.
For more information on all our teaching positions in China, please visit http://www.anesl.com/schools/search.asp
If you are interested in obtaining a position, please send the following documents to HR@anesl.com :
Your resume / CV
Scanned image of your passport
Scanned image(s) of your degree certificate(s)
Recent passport-style photo
Scanned image(s) of your teaching certificate(s) (if available)
Providing all these documents will greatly improve your chances of employment! Yes, Our Expert Staff will assist you in your application one by one!
You are also welcome to talk with our staff on Google Talk, MSN, Yahoo Messenger or Skype.
As the largest agency in China, Angelina's ESL Cafe serves only serious applicants and employers!
Frequently Asked Questions at http://www.anesl.com/schools/faq.htm
Advice given by our CEO when being interviewed by a journalist of Public Radio International, U.S.A.: TARGET=_BLANK>http://www.anesl.com/schools/advice.htm
List of Chinese Schools with Hiring Foreign Expert Qualification Certificates: http://www.anesl.com/schools/info.asp
Contact:
Preston Decker(American Consultant), Linda Lee (Chinese Consultant),Tom Tang, Helen Yang, Vicky Fang, Kama Xu, Amanda Zhao, Linda Zhao, Frank Ao (Houston,Texas,USA), etc...
Foreign Affairs Office (Beijing)
Team of Angelina's ESL Cafe
Email: HR@anesl.com
Global Free Consulting Hotline: 400-100-3658
Tel: +86-10-5166 3658, +86-10-5118 4585, +86-10-5118 4586, +86-10-5118 4587
Ext. 805 (US English), 810 and 804(UK English) or Ext. 809 (Chinese)
Fax: +86-10-5118 4585, +86-10-5118 4586, +86-10-5118 4587
Address: Room 503, Aoyu Buliding, 2 Jinyuan Road, Beijing, China 102628
Website: http://www.AnESL.com/
Angelina's International Placement Service, China
Office in North America
Houston,Texas U.S.A
Contact: Mr.Frank Ao
Email: frankao@anesl.com